Dover Cruise Transfers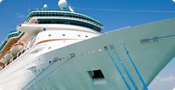 Based just a mile from the Port of Dover we are in the ideal location to give you the best price for your transfer to or from Dover Cruise Terminal.
We specialise in cruise transfers to and from London Heathrow Airport, Central London, London Gatwick Airport, Stansted Airport, Luton Airport for groups of up to 33 passengers*
As part of your transfer, we can include a fantastic value, sightseeing tour. We regularly take our customers to beautiful destinations such as, Dover Castle, Canterbury Cathedral, Leeds Castle and the Whitecliffs of Dover, all the while ensuring that we keep you on schedule to join your Cruise Ship. To create a tailor-made tour  contact us and we will make some suggestions.
Dover Cruise Transfers you can rely on;
A 5 star rated company on Trustpilot, Google and Facebook
We are the biggest Minibus and small Coach operator in Dover
Established in 1991 we are a family owned business
All taxes and charges for our mini bus hire services are included in the prices shown below.
We can organise multiple pick ups from London hotels. You need only tell us the hotels in question and we'll work out all the timings.
We do not charge you if you need to amend your booking  – no matter how many times you change your plans!
High quality vehicles are perfectly suited for providing cruise terminal transfers with separate compartments for your luggage.
Sightseeing Options en-Route to or from the Port of Dover.
We offer a really simple addition for those of you who don't want to miss out on great sightseeing opportunities during cruise terminal transfers.
We'll take you wherever you want to go en route to or from Dover (within reason), the only charges your group will pay are:
£55 per hour waiting time once we arrive at the venue/attraction of your choice
Any admission or entrance fee payable (if applicable)
Parking charges for the vehicle (if applicable)
For more information or to make an enquiry about this service call us on
01304 228111
or to make an online enquiry
contact us
.
* Please contact us to discuss your luggage requirements