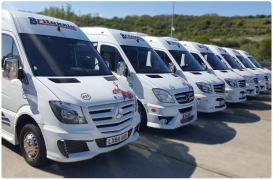 Kent's largest Mini Bus specialist
Our experienced team members are on hand to help you find the best solution to your transport needs. Phone 01304228111 or REQUEST A QUOTE and we will respond ASAP. Any UK or European destination – we can offer you the most competitive in minibus hire. As Kent's largest Mini Bus Company we pride ourselves on providing a safe, comfortable, and reliable Mini Bus hire service across Kent. For more info about us click here.
Options to suit all budgets…
Facebook Posts
We have launched new bus service today as part of a KCC pilot scheme, connecting the villages of Staple, Guilton, Northbourne, and Mongeham with..
New Rural Bus Service for Sandwich dover.gov.uk New rural bus scheme launches in Sandwich on Monday, 10 June, serving four villages and offering four daily return journeys