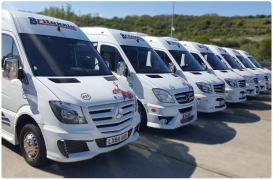 Now Recruiting Full and Part time PCV Drivers
We are looking for PCV drivers to join our friendly team  Apply Now
Minibus and Small Coach Hire 12 – 33 Seats
Our Reviews
Lynne I
We used Britannia coaches for a return trip to a wedding. We booked the 33 seater which was new, clean and comfortable. Both drivers were

...

professional friendly, nothing was too much trouble. The office staff were helpful and kept us informed and went the extra mile to ensure we were happy with the price and service. I can highly recommend Britannia.

read more
Leo L.
Really nice suff bus looks great
Graham M.
Excellent service transporting our wedding guests to and from our wedding reception. The staff went that extra mile to provide a fantastic service.

...

Thank you

read more
Dottie B.
Highly recommend this company! Pick ups were on time with very friendly and professional drivers. Driver took us to Dover Castle before our cruise.

...

Was an unexpected perk.

read more
George K.
Booked four minibuses for various parts of our wedding day near Canterbury and everything went off without a hitch! Great communication throughout

...

and on the day.

read more
Jan R.
Thank you very much for your excellent coach hire service yesterday. Our driver was superb, really careful and beautifully on-time. The whole team's

...

excellent service helped make the day go very smoothly.

read more
Steve P.
Fantastic service and Robin our driver went above and beyond for our family - even had a follow up text in the morning to check we got to our car ok.

...

Thank you Robin - fantastic chap 👌🏻

read more
Victoria S.
Excellent service by our lovely driver Steve...used them before and knew Steve would be great especially driving 9 12-13 year olds to a birthday

...

party! He was fantastic! Super service by Britannia coaches, highly recommend

read more
Matt G.
I am writing to commend our driver, Matt, on the Dover White Cliffs tour. He was not only very knowledgeable, but had clearly invested a great deal

...

of time and energy into preparing. At various points, he produced samples of various types of rock, fossils he'd collected himself, old Ian Fleming paperbacks (which he had read) and even a copy of King Lear. He made what would have been a good tour truly memorable.

read more
Judith S.
We hired a 29 seater midi coach for a trip over to France. Our driver Bill was friendly and punctual. The coach was clean and comfortable, we had a

...

smooth journey and Bill managed to stop for a few extra loo breaks.I'd definitely book with them again, there was lots of logistics with picking people up from different places but it all went perfectly and ended up being a stress free trip.

read more
Deborah S.
Absolutely excellent service, from booking with this wonderful team of knowledgeable associates to the actual collect and return journeys, sorting

...

all the timings to ensure we arrived at the wedding venue on time. Max our driver was exceptional, very helpful getting us on and off of the coach. Children, Adults + bags and push chairs. We were also allowed to leave the child seats on the coach ready for our return journey. We were very grateful that he was able to collect us an hour early as the children were all shattered. Brilliant will definitely use them again.

read more
Jason E.
Excellent drivers (coped well with M25 closures) and very good comms from the office by e-mail and phone. I would definitely use again given the

...

service provided. Very happy with Britannia and my dealings with them representing my cycle club for 14 of us to get to the airport and back in the middle of the night.

read more
Angela S.
Absolutely fantastic, booking was easy, helpfull staff. I hired this coach to take us to a wedding then picked us up. Didn't have to wait arrived on

...

time. Would use again. Both drivers were great and friendly. Thank you Britannia a great service

read more
paul G.
Best coach company I have used by far.Great customer service, excellent communication, very modern coaches and good punctual drivers. Will

...

definitely use again.

read more
Stephen E.
Mark, our driver, arrived with the coach for our outward journey in good time and was very courteous and helpful. On our return, he was ready at the

...

airport for us to walk strait on to the coach. The Company provided excellent service and value for money in our opinion.

read more
Glynn S.
We used Britannia Coaches to take our 12 family members to Gatwick and bring us back from Heathrow, on time at both locations, couldn't fault them at

...

all, both Drivers were excellent and very professional.

read more
Thomas L.
Hired a Britannia minibus with driver for a day trip to Canary Wharf. The minibus was great, as was our driver Max. Was excellent value, worked out

...

much cheaper than the cost of a train with the added benefit of not having to arrange taxis at either end. Amazing service. Highly recommend

read more
Mrs B.
Britannia coaches were brilliant in helping us out with transport for our Aspen 2 Special School's Carol Service. They provided us with 4 minibuses

...

to transport our special needs students down to the local church. This meant that all our students were able to attend this very important event. Ben at Britannia could not have been more accommodating or helpful and made the whole event run smoothly for us. Thanks Britannia!! From all of the Aspen 2 staff and students

read more
Nicola S.
Nigel our driver was superb he was fun and engaging and made the journey pass quickly and he went above and beyond. The minibus was very clean and

...

comfortable and I would recommend this company in future.

read more
nicole M.
Very smooth booking from London to Dover, back to London. Both drivers were friendly, accommodating, and drove safely. The coach itself was clean,

...

spacious, and comfortable.

read more
Georgina D.
Great service, great drivers. Good value for money and will definitely use again. Thank you Britannia coaches.
Aruna S.
I used Britannia Coaches for the first time for my clients to be picked up from Dover Cruise port. Their service was very professional & punctual

...

from start to finish. They kept me updated through out. I would use them again and highly recommend them.

read more
Ray F.
Excellent service and company. Would definitely use again. Always kept up to date.
Gary M.
We used this company for our wedding, Your service was second to none from beginning to end, your driver was extremely polite and courteous to all

...

passengers, and health and safe was adhered to. I spoke to the guests that were on the coach and they could only give positive reviews, the coach was clean tidy and the driver was punctual

read more
Tracie T.
We used Britannia Coaches for a trip to the Canterbury RMA Summer BBQ. Excellent service from the driver Sam, reasonable price and a lovely new coach

...

to travel in. Will use again for future trips

read more
karen G.
What a fantastic service we had. The 12 seater mini bus.we hired was immaculate. The driver.(I think his name was Vince) drove us beautifully..

...

would certainly use them again.

read more
Glynn S.
Excellent service, picked up at both points on time, driver was very pleasant and very helpful, wouldn't hesitate to recommend them and we will use

...

again

read more
Darren L.
Very good service, will use again
Robert M.
Britannia were very easy to deal with and always answer the phone - a godsend in this day and age. We had several rearrangements to our journey and

...

they rescheduled 3 times without additional fee. I would certainly have paid one if they requested it, as the rescheduled times were our fault and not theirs, but they were nothing but courteous to us.Customer service was second to none. They arrived for 3 different journeys, at 3 different times, in the right sized vehicle, and at least 15 minutes early each time. They insisted on checking they had everybody on board before leaving. I really have been very impressed and will recommend them to anybody looking for larger-scale transport in the Kent area from now on.Thank you again, you made what could have been a stressful day of organisation, a pleasant experience.Additionally - the drivers were extremely polite. Keep up the high standards.

read more
Jarle T.
Excellent service from booking, confirmation, detailed itineraries etc as well as considerate drivers. Party of 13 from East kent to and from

...

Gatwick. Would definitely recommend

read more
Dean O.
Great Airport pickup service despite pickup at 3am
ole R.
Quality vehicles and drivers
Stephanie B.
Britannia has been an amazing help for our venue working with corporate and wedding clients. Very professional and always on time. would highly

...

recommend

read more
sharon E.
Fantastic service and communication when booking a Britannia bus. The bus was clean and comfortable our driver was very courteous and professional

...

this was our second time of hiring a Britannia Bus & I would highly recommend Britannia coaches, and I would not hesitate in using Britannia again THANKYOU

read more
Anne S.
Great service , prompt arrival. Couldnt fault our driver Steve who kept me informed by text and phone calls regarding pick up at airport and our

...

return from hotel to airport. Fantastic customer service from Ian and Michelle. I wouldn't hesitate to use your company again or indeed to recommend to anyone. P.S. fabulous modern and spotlessly clean coaches.

read more
Maisie Ann G.
Excellent service from start to finish. Luxury coaches, wonderful staff and decently priced. I would 100% book them again. We used them for our

...

wedding reception up at Fort Burgouyne Dover which is really remote. We needed a way to get all our 100 plus guests there and back again. Britannia coaches did an amazing job, accommodated for all passengers needs including mobility. they were prompt and so wonderful to all of us it helped really add to the smooth running of the day. Book with them over anyone else - they will not disappoint you for sure!

read more
Ole R.
Brilliant because I work here
suzanne I.
Excellent service, on time, accommodating and safe. I would recommend them to anyone who needs coach service.
Advance The Electrical S.
Fantastic service, very helpful and brilliant drivers so helpful. Prompt and lovely clean vehicles. A big thank you to drivers Nigel and Peter.

...

Finally a very reasonable price

read more
Jason D.
18 of us used the service from Ramsgate to Stansted airport for a stag do. The service was fantastic both drivers were very helpful and friendly the

...

coaches were very clean and tidy. It was a very relaxing start and end to a great weekend

read more
John A.
Britannia Coaches did a good job transporting me from Dover Port to Gatwick Airport on June 10th. Driver Chelsea was on time and competently and

...

safely drove me to the airport so that I could board my early flight back to Orlando. I would use BC's services again without reservation. Thanks Chelsea for a fast, safe and entertaining ride to Gatwick! I enjoyed our conversation!

read more
ROSEMARY S.
DRIVER WAS ON TIME POLITE AND HELPFUL
Eve F.
Brilliant service! Well worth the money! Communication was there from the drivers! Will be using again in the future!
Caroline R.
Very good coach company with very helpful drivers.
nathan D.
A 5* review for a professional and well organised company. Made our trip easier knowing we didn't have to worry. Will recommend and use again!
Kayliegh D.
Absolutely brilliant, we went on a hen party to Bournemouth and they couldn't have been more helpful. Our driver Olly was so friendly and couldn't

...

have done anymore for us.

read more
Next Reviews