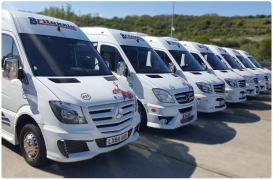 Now Recruiting Full and Part time PCV Drivers
We are looking for PCV drivers to join our friendly team  Apply Now
Minibus and Small Coach Hire 12 – 29 Seats
Our Reviews
Mark G.
Fantastic luxury coach provided for a trip from London to Dover. Great communication from the operations team and really good to be able to track the

...

Bus before it arrived. Would definitely recommend!

read more
Mail Dover Smart P.
We recently used Britannia Coaches for one of our groups to go on an educational trip. It was booked at short notice and the company were so

...

accommodating, the customer service was excellent. The coaches are of a high standard and the driver was very pleasant. We would definitely use them again.

read more
michelle S.
I use Britannia coaches for my wedding party on 14/02/2020 Great service and great staff will use again
Paul W.
First class vehicles with friendly and very helpful management and drivers.I wouldn't consider going anywhere elseP Woodward - East Kent Vineyard

...

Tours

read more
Trevor B.
Great customer service, so friendly and always go the extra mile
Fiona S.
This is the second year we have used Britannia Coaches for our staff Christmas Party. The first time they were brilliant although I had left it

...

until the last minute and everything had gone smoothly. Therefore when arranging our staff Christmas Party this year I didn't hesitate calling them again. The mini bus arrived at the first pick up point on time, the driver was very polite and helpful. All pick ups on the way were in fact reassuringly a bit early with no problem for waiting for anyone if not quite ready. The driver actually stayed at our destination until we were ready to leave and everyone was delivered safely home with the same patience and helpfulness. I would not hesitate using them again next year.

read more
Rosana P.
We hired a small coach for a wedding recently and were extremely pleased with the clean and comfortable vehicle and the polite and helpful driver.

...

We would definitely use again.

read more
Charlotte P.
I hired two coaches including one with wheelchair access for a work trip and I couldn't rate Britannia Coaches more highly. Their service was

...

fantastic, going the extra mile to make our day run smoothly. Our drivers were so hospitable and friendly The vehicles were lovely, we were particularly impressed with the wheel chair friendly coach. Their service was such good value, we will definitely be using them in the future.

read more
Keith M.
ollie, our driver arrived promptly on both days and could not be faulted, he was also a good laugh and a pleasure to travel with
Stephen G.
Used Britannia twice this year as I have a large family and a lot of suit cases to take to the airport. Extremely professional, always on time both

...

ends at pick up, home and airports. Friendly drivers, nothing too much trouble. Both times had coaches upgraded to executive with more seats than we actually needed but very comfortable, air con, blacked out windows and plenty of room inside. Extremely competitive. Use them you won't regret it.

read more
Rod W.
From the initial booking and confirmation to the very capable and friendly driver our day went so well and we will certainly be using Britannia

...

Coaches again 5 Star company

read more
Batsheva Nivy L.
We arrived at the port of Dover on the Disney Magic after a 7 day cruise (from Barcelona to Dover). We needed to get from Dover to the Ashford

...

International Train Station to catch our Eurostar train to France. Since we were a group of 9 people, i didn't want to have to depend on taxis. After receiving a recommendation, i decided to use Britannia Coaches. I am very happy that i did. Our driver was right on time, was courteous and an excellent driver. I was very pleased with the service provided, including keeping me informed of where the driver was leading up to the meeting time. All in all, outstanding service and i highly recommend them as well as look forward to using their services again in the future.

read more
carl P.
Great ServiceGreat DriversGreat Company
Mo K.
Friendly efficient service , lovely coach and courteous driver. Prompt pick up both ways .Very reasonable prices. Highly recommended .
Anna D.
I was extremely pleased with your coach service the Driver was on time, polite and very accomadating which made the whole group to relax. The coach

...

was clean and very comfortable and we will be using your services again and i highly recommend that you use their service.

read more
Spud D.
Great service and a nice clean comfortable coach. A great day was made even better by Britannia. Thanks guys!
Lee B.
Terrific experience through both booking and the service, would not hesitate to recommend or use again.
Tony S.
Very good service, prompt, courteous & good price, many thanks
Iain A.
We used Britannia Coaches for my Daughters wedding and can't recommend them enough. Turned up in time and put up with my last minute changes with no

...

quibble. I would like to thank them for helping it make it a great day.

read more
David P.
Britannia Coaches has a responsive customer service team. Provided a fine vehicle. Which arrived on time. And we had an excellent, knowledgeable and

...

polite driver. All at a reasonable price. We will be using them again.

read more
pam H.
Booked a short trip from Margate to Romford in Essex. The very smart Mini Coach was waiting 30 minutes before we needed to leave. The driver was

...

friendly, we all set off on time. The journey was smooth and very safely driven. Every attention to the passengers needs for comfort breaks. The whole experience from booking to saying goodbye was without stress and enjoyable.

read more
restewart100
Great Service Thank you
Marianne M.
The customer service from this company is second to none! We always receive a phone call a couple of days before the booked collection to confirm

...

that the details are correct. Recently we attended an event and it didn't finish at the expected time, the driver of the minibus we had booked was polite, understanding and extremely accommodating. We would highly recommend this company.

read more
Wealden R.
Great trip, excellent organisation. And the coach was top notch.Thanks!
eric W.
Fabulous service and Mark was a very competent and caring driver. considering the circumstances that we used Britannia to take us to and from a

...

Funeral Service, everything about the service Britannia provided was exemplary - can thoroughly recommend them

read more
Sarah H.
Right from booking, through to the evening of our works Christmas party, the service we received was exceptional. Received a courtesy call a few days

...

before to make sure everything was good to go, and the price was very reasonable. The driver made sure everyone was dropped at their door.

read more
Hayley G.
Great service, even with our last minute amendments! Friendly polite staff, and very clean vehicle. Highly recommend.
Sammi H.
Amazing company available to fill the needs required. Friendly helpful staff, very polite and the driver we had was amazing. Time scale given was

...

very accurate for the journeys

read more
Claire F.
Very efficient service, thank you.
Mark H.
Great service. Made our day amazing and easy.
Sophie R.
I would like to thank Britannia Coaches who provided a fantastic service by taking a group of ten ladies to Boulogne and back for the day. We were

...

all really impressed for their professionalism. The port of Dover was extremely busy on the day we left and our Driver made sure we didn't miss our ferry. They helped with itinerary of timings for the day and it ran seamlessly. A big thank you to all the team at Britannia, especially Bill our driver. I highly recommend!

read more
Jo
We recently used the services of Britannia coaches for our daughter's wedding, it was on a weekend where the traffic in town was particularly busy

...

due to the port. A representative from Britannia called to inform us of the difficulties and suggested we move our pick ups earlier to ensure we arrived on time. We had a disabled coach as one of our group uses a wheelchair and, although I didn't witness it, she was very happy with the process of being boarded and the journey. We also had a few trips from the Church to the Town Hall and this went very smoothly too. I wouldn't hesitate to recommend Britannia or to use them again in the future.

read more
Steven C.
We were looking for a flexible company to take a group of friends up to Ascot racecourse and bring us back on the same day. Britannia were easy to

...

contact and were very accommodating to us. A group of lively young men travelling back from the races is an experience but our driver was excellent and very helpful. We would book again and wouldn't hesitate to recommend.

read more
Kylie L.
We really struggled to find a company to use or even book taxis for our wedding guests but Britannia Coaches understood what we needed and delivered

...

a fantastic service on the day. All of our wedding guests were happy and very well look after. The staff were helpful and friendly from the first enquiry to getting our guests back to their hotel after in the evening.

read more
Erica V.
Excellent service during the booking process, excellent drivers and vehicles, friendly staff in the office, very good prices. Have been using

...

Britannia for two years and will certainly keep doing so.

read more
Chris S.
Booked them for a company event Canterbury to London. Excellent service and reasonable price – would recommend.
Next Reviews